WARNER SPRINGS, CALIFORNIA is a community located in San Diego County, best known for two landmarks that call it home: The Oak Grove Butterfield Stage Station and the Warner's Ranch. When you're in the area, you may also want to take a look at Ranchita Bike & Hike Downhill Bike Tours, the Palomar Observatory Campground, or perhaps the Los Coyotes Reservation Campground. There are so many things to do here. No matter what kind of activities you have planned, you'll need to decide where to eat and drink. These happen to be our favorite restaurants and bars in and around the 92086 zip code. Enjoy!
Ocean Burrito - CLOSED
is such a fun place to grab some truly good Mexican grub! We love their burritos the most of course, but the tacos are really great too. The location is so convenient, especially if you love to surf in nearby Oceanside. It's just a quick jaunt over to grab some fresh Southwestern flavor! You can't beat that. You can find this great little place at 35124 California 79!
County Line BBQ & Cafe
is a great little bar where you can stop in and get some truly good barbecued meats along with an ice cold beer. They've got wild game here too, which is a major plus in our book. We love the outdoor cooking area where they prepare those wood fired delicacies, and the screened front porch is also so homey and comfortable. Our favorite things are the burgers and brats, and the ribs are great too! You can find County Line BBQ & Cafe at 23446 California 79!
Jalapenos Mexican Grill - CLOSED
is another great spot in Warner Springs where you can get your fill of the tastiest Mexican food around. These Southwestern taste sensations are tough to find at this high of quality, but Jalapenos is always consistent with their level of customer satisfaction. The staff here puts in a lot of work to make sure that you have a great time. And you'll love the atmosphere too... casual and comfortable. Just right for those dinners with friends or even a relaxed date. You can find Jalapenos Mexican Grill at 32389 California 79.
Julian Cafe
is of course located in nearby Julian, but it's close enough to be considered a great stop when you're in the Warner Springs area. Everything is made fresh here, and it's SO good. We love the apple pies, which is what they are known best for, and they've also got some really incredible bakery items and appetizers. And of course the star of the show would be the entrees. You can't go wrong with anything on the menu. It is a little bit pricey here, but we think it's worth it. You will be able to find Julian Cafe on Main Street near Washington Street in nearby Julian.
Julian Grille
is yet another great restaurant that's not too far away from Warner Springs, located in nearby Julian. It's a favorite spot among dog owners because they can bring their furry friends with them and enjoy a meal on the patio. The fire pit is a really elegant touch, as are the lovely vines that provide more ambiance. As you can imagine, that outdoor patio is perfect for romantic dates. Our favorite thing on the menu is the salmon, which is glazed with Grand Mariner, and it's so great! Julian Grille is located on Main Street between Washington Street and A Street, of course in nearby Julian.
Bailey Barbecue
is the best spot in nearby Julian for those who really love some good barbecue! We can't get enough of this place. They've got some of the best BBQ sauce that we have ever tasted, and they really lay it on thick which is the way we like it! They've got great live entertainment on the weekends too, which makes it a great place to gather with your friends, or perhaps to bring that special date. You can find Bailey Barbecue on Main Street between A Street and Washington Street, in nearby Julian.
Soups & Such Cafe
is a quaint little restaurant in Julian that has really caught our eye as of late. Their menu is very hearty and delicious, but definitely leaning towards a more healthy and vegetarian slant than most. Their soups and homemade breads are just too good to be believed, and you'll really feel like you're treating yourself to a better dining experience than you can find elsewhere. This is the kind of nourishment that is good for both body and soul. You can find Soups & Such Cafe on Main Street between C Street and B Street in nearby Julian.
Cowgirl Cafe
is the place to be in nearby Julian if you love great sandwiches! They've got a wide variety of them here, including a grilled cheese (sometimes the basics are the best!) that we just cannot get enough of. The hamburgers, too, are fantastic, and we love their pies and other dessert items. You can find Cowgirl Cafe at 2116 Main Street in nearby Julian!
Heros Deli
might sound like it would be about nothing but great deli sandwiches, and though they certainly do have those there, they've got a lot more than just that! How about that Chinese food? If variety is the spice of life, then Heros Deli is the spiciest restaurant on this list! Everything is made fresh here, and you can enjoy a really beautiful view of the town while you dine. Very cool spot to relax and talk with friends over a great meal. You can find Heros Deli on Main Street between C Street and B Street.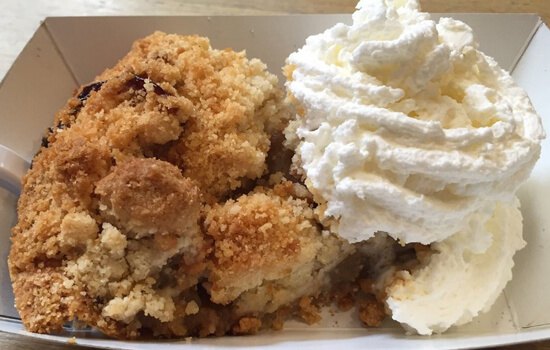 Mom's Pie House
gets our recommendation yet again, because they've got the best pies around. The hot apple pie is the one that they are known for, and we would highly recommend it! You'll definitely want to try their homemade soups and fresh salads too. Everything here is top notch and homemade, and we can't get enough of any of it! You can find Mom's Pie House on Main Street between Julian Street and Hunter Street, in nearby Julian. Such a great place!