Wynola Pizza Express
serves up the most delicious wood fired pizzas that you will ever have the pleasure of eating! We try to dine here at least once a week, and they never fail to please. The consistency here is to be commended, and the attention to detail by the waitstaff is also noteworthy and rare to see! We love the charming atmosphere, and the food is simply superb. Don't limit yourself to just pizza when there are also salads and pastas to enjoy! Great soups too! And don't forget about that gorgeous view. You can find Wynola Pizza Express at 4355 California 78.
Jeremy's On The Hill
has cuisine that consists of French delicacies with a California inspired slant. It's very romantic here, with a gorgeous outdoor dining area, and a beautiful fireplace inside as well. People really talk about this restaurant a lot, and we finally decided to check it out. We were definitely not disappointed. The food, including the salads and soups, is fantastic. We would highly recommend the rack of lamb, and any of the wines and beers that they offer would pair very nicely with that. You can find Jeremy's On The Hill at 4354 Highway 78.
Apple Country Restaurant
is just too divine to be described. Breakfast here is superb! They've got the best coffee in town, plus all your breakfast favorites including sausage, ham, bacon, biscuits and gravy, country potatoes, scrambled eggs... and so much more. You can find all that on their Sunday breakfast buffet too, which will cost you just over ten dollars per person. Where can you find a spread like that for so little dough? It's impossible. People absolutely love this place whether it's time for breakfast, lunch, or dinner, and no trip to Santa Ysabel would be complete without a visit to Apple Country! You can find it at 30270 California 78.
Round Up BBQ
is simply fantastic for those who love the taste of real authentic barbecue. This is true southern barbecue at its best. The Tri Tip Philly Sandwich is out of this world, so juicy and packed with flavor. We also love the Hawaiian Burger, and really any burger on the menu, because the beef is raised in nearby Palomar Mountain so it's supremely fresh and incredibly flavorful. The restaurant has a delicious country vibe that we cannot get enough of. You can find Round Up BBQ at 26439 California 76!
Julian Cafe
... at this point on the list we move over to nearby Julian because we've exhausted the supply of restaurants in Santa Ysabel! Julian Cafe is a really great choice for breakfast, though many say it's too expensive for their tastes. We happen to be of the belief that you get what you pay for, and that is certainly true at this place, so we highly recommend it. The omelettes are out of this world, and we love to dine on their fabulous apple pies any time of day! You'll be able to locate Julian Cafe on Main Street between B Street and Washington Street in nearby Julian!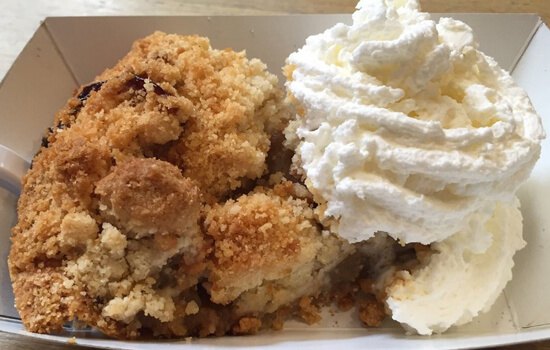 Mom's Pie House
is so fantastic. Also located in nearby Julian, this one is known for its incredible pies of course, but what you may not know is that they also have some of the very best sandwiches in town! We love their Strawberry-Rhubarb Pie the best, followed by their Bumbleberry Pie which consists of blackberries, blueberries, and blueberries! The Ruby Pie is an essential too, with apples, rhubarb, raspberries, blueberries, and strawberries! Don't forget to try their muffins too! Yum! Located at 2119 Main Street in nearby Julian!
Julian Grille
is another of our favorites in Julian, and part of the reason for that is their wonderful outdoor patio. There's plenty of shade to escape from the heat of the sun, making it the perfect spot to enjoy a leisurely lunch even when the weather is a little too hot for your liking! They've got a great wine list and truly incredible ambiance here. Very romantic and elegant. We love the soups and salads here, and the salmon with Grand Mariner glaze is truly wonderful! You can find Julian Grille at 2224 Main Street between Washington Street and A Street in nearby Julian.
Julian Hard Cider
is one of the coolest restaurants, brewpubs, and wineries that you will find in the Santa Ysabel and Julian area! It's been featured prominently in many magazines including San Diego Union Tribune, Sunset Magazine, and Edible San Diego. The thing that makes the difference in the quality of their hard cider is that it's made from fresh apples rather than from concentrate. Once you realize this, and once you have tasted it, you'll find it's impossible to go back to those other ciders that you've been settling for! You can find this wonderful place at 4468 Highway 78 in Julian, and we very highly recommend it to you! An all around great experience.
Miner's Diner
has been one of our favorites for a while now, mostly because of their wonderful old fashioned delights such as juicy hamburgers and creamy shakes! We love their orange float. We'd travel a good distance just for one of those! The service is pretty good here, very friendly and fast just like back in the day. It's definitely a blast from the past, and we love it. You can find Miner's Diner in nearby Julian, on Main Street between B Street and Washington Street!
Romano's Dodge House
... How could we write this list of great restaurants in the Santa Ysabel and Julian area without including this place? It's one of the best Italian restaurants you will find in the area, with wonderful pasta, salads, and pizza, and so much more. It's completely authentic, and everything is fresh. We love the pork chops best of all, and the pizzas are a close second. Note that it's supposedly haunted, so the amateur ghost hunters out there may want to plan a dinner stop here sometime soon to check it out! You'll find Romano's Dodge House located at 2718 B Street in Julian.