Ramona Cafe
is our favorite place in the area for a really great breakfast or lunch. They've got a chicken fried steak that we really love, and those homefry plates will really fill even the heartiest appetite! You'll definitely want to check out those massive cinnamon rolls if you're there for breakfast time! Massive is not an understatement. You may want to share with a friend or two! We love that breakfast is served here until 2:30 PM! You will find Ramona Cafe on Main Street between 7th Street and 6th Street!
Sizzler - CLOSED
has been going strong here in California for as long as we can remember, and after a quick fact check we discovered that it's been around since 1958! Now that's longevity. After all these years we still really go gaga for this fantastic steakhouse. The rustic atmosphere with lots of wood and stone is very attractive to us, and we especially love all the American favorites here from steak and seafood to sandwiches and salads. Everything is top notch. You can find The Sizzler on Main Street near the intersection with 4th Street.
Kountry Kitchen
is a really great spot in Ramona where you can indulge in delicious breakfasts and amazing lunches. It's been going strong since 1939 if you can believe that, and any restaurant that can last that long really knows how to please its customers. It's nothing but comfort food here, including chicken fried steak, country style potatoes, and rich biscuits and gravy. The atmosphere is authentically retro, which is tough to find nowadays. Check out their outdoor patio too. You can find Kountry Kitchen on Main Street between 9th Street and 8th Street.
D'Carlo's
is a wonderful spot to dine in Ramona, and we are big fans of their prime rib and really all of their delicious beef dishes. D'Carlo's has been going strong for at least twenty years that we are aware of, perhaps longer, and it's recently undergone a change in management but that old fashioned quality still remains. Very friendly staff, delicious food, and a great atmosphere. You can find this cozy little spot on Main Street between 13th Street and 14th Street.
Boll Weevil Ramona
is one of the more interesting and eclectic restaurant choices in the area. Their menu is a bit slim, but the choices are unique enough to make up for that fact. It's a very family friendly restaurant with lots of video games to keep the kids busy while you're waiting for the food to arrive. The big kids like yourself will have plenty to do too, with pool tables, karaoke, and lots of televisions so you won't miss the game! We love their sandwiches and burgers. Very highly recommended. You can find Boll Weevil Ramona on Main Street between Etcheverry Street and Wynola Street.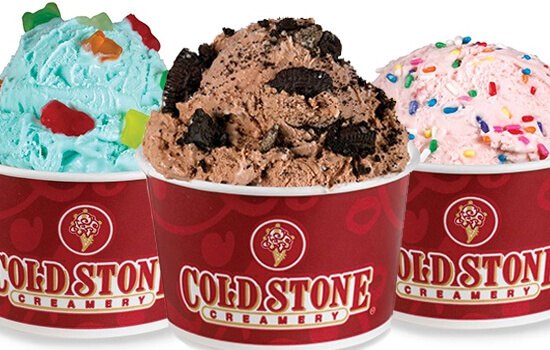 Cold Stone Creamery
couldn't be left off this list! We love their cold creamy treats that include delicious homemade ice cream delicately folded with all your favorite toppings, plus delicious juices and smoothies, and even cakes and baked goods. There are frozen yogurts and sorbets available for the health conscious or those who just don't like it quite as creamy! This location is privately owned even though this is a massive nationwide chain, so you still get that personalized service. Love it here! You can find Cold Stone Creamery on Main Street between 14th Street and Montecito Road.
Rubio's Fresh Mexican Grill
has gotten our recommendation a time or two in these pages, and the reason for that is their fresh and delicious Mexican favorites! They've also got some really great seafood dishes and American surprises too, so no matter who you're dining with they'll be able to find something that pleases their tastebuds. We love the fish tacos and steak tacos! There are many locations in San Diego County but this one in Ramona happens to be our favorite. You can find it on Main Street between Day Street and Ramona Street!
Kenrix Sushi Co
really drives us wild with its fresh and yummy sushi offerings, plus open mic night on Thursdays always brings us in to see the local talent show off their skills. Wednesday night is a great place to come in too, since they have many specials without any roll on the menu going over ten dollars in price. The service is truly outstanding here. Be sure to try their sake, because they've got a wide variety to choose from. You will find this excellent Japanese restaurant on Main Street between South Kalbaugh Street and Rotanzi Street.
Molly Molone's Sports Bar
is one of the larger bars in Ramona, and the crowd that gathers here tends to be a bit younger and wilder. It's always incredibly busy, the parking lot virtually crammed with cars and people practically spilling out the door. That's a sign of a great bar. One of the reasons that everybody packs into this place is the metal bands and rock bands who play here! They are truly some of the best around, and they really keep the place jumping. You can find Molly Molone's Sports Bar on Main Street between 13th Street and 12th Street.
Cheers of Ramona
seems to be everybody's favorite bar in the area, and we definitely agree with that sentiment! They've got some of the most generously sized burgers that we've ever had at any local bar, and the drinks are nice and cheap and very strong here! Never watered down. They've got Dollar Taco Tuesdays which we love, and they are really good tacos too! Everything about this place says "comfort" and "consistency," and that's what makes it one of our favorite bars of all time. You can find it on Main Street between South Kalbaugh Street and Wynola Street.