RAINBOW, CALIFORNIA is one of the smaller census designated places near San Diego with about two thousand people living within the area. It was originally known as Vallecitos, Spanish for Little Valley, but was renamed Rainbow Valley in the late 1800s after one of the wealthier residents named J.P.M. Rainbow. If you're coming into the 92028 zip code, take note of these great bars and restaurants that are within driving distance, in nearby Fallbrook. Enjoy!
Fallbrook Coffee Company
is a wonderful cozy espresso bar that we make sure to visit every time we are in the Rainbow and Fallbrook area. Many have said that they have the best espresso and coffee in San Diego County, and after many visits we definitely agree. We love to head down there for breakfast and order one of their delicious bagels, along with a hot coffee and perhaps an espresso. There's no better way to wake up and get to work in the morning! You can find this place on South Mission Road between Co Highway S15 and West Ash Street, in Fallbrook.
Love Boat Japanese Restaurant & Sushi
has such a cute and romantic name! But there's more than just a clever name here, there is real substance. The restaurant has the tastiest sushi we've ever tried! Even the old standard California roll is a true winner here. The Chilean Sea Bass is a specialty that we cannot pass up, and we also really love the spicy rolls here. Let the sushi chefs serve up their own creations and try something new! You can find Love Boat Japanese Restaurant & Sushi on Rancho Bernardo Road near the intersection with West Bernardo Drive.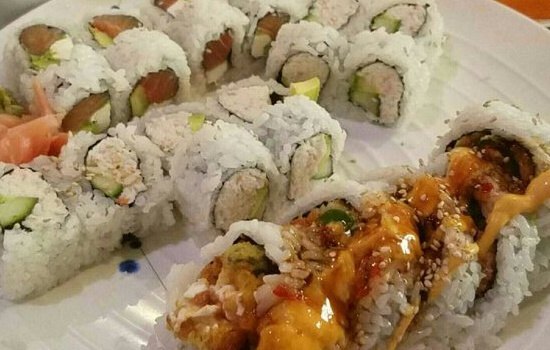 Young Sushi
... we were hesitant to list two sushi restaurants in a row, but we love them both! They're both so good. The sushi and sashimi are both truly fantastic at Young Sushi, and we adore the tempura offerings too. Great drinks too that really quench your thirst and give you a nice buzz if you want it! Great romantic atmosphere. You can find Young Sushi on East Mission Road near the intersection with Santa Margarita Drive. Very highly recommended!
Carl's Jr
once again gets our recommendation because it is such a prevalent part of California culture. The food itself seems to be the antithesis of Californian cuisine... no turkey breast and alfalfa sprouts burgers here, that's for sure! Big juicy burgers, all the toppings, great breakfasts, and even breakfast burgers! Everybody in Fallbrook or in the Rainbow area loves to come down here for a great meal to start the day. You can find Carls Jr on South Mission Road between West Aviation Road and Ammunition Road!
Firehouse Broiler
is loved by everybody in Fallbrook, because of the comfortable and rustic steakhouse atmosphere. The salads are one of the best things on the menu. They're large and very fresh. You simply cannot do better than their barbecue items. The steaks and ribs are our favorites. There are many flavorful beers on tap too. You can find Firehouse Broiler on South Main Avenue near the intersection with East Aviation Road.
Cafe Des Artistes
is a truly fabulous little cafe located in the back of an art gallery on South Main Avenue, so you can get a little bit of culture on your way to caffeinate! It's more than just a cafe though, it also has great Mediterranean dishes plus delicious desserts. Great place to meet up with art-loving friends! We really think you'll enjoy this one. You can find Cafe Des Artistes on South Main Avenue between East Alvarado Street and East Fig Street.
El Jardin Mexican Restaurant
is so beautiful and bright inside, it's probably the most cheerful restaurant that we've visited in a good long while. You leave feeling not just satisfied from the food, but uplifted from the ambiance. And that's always a nice feeling! We love to begin with the chips an salsa, and then the burritos are the top choice for an entree if you ask us! Flan is the dessert of choice. And how about that Sunday brunch? Beautiful art on the walls from local artists as well. You can find El Jardin Mexican Restaurant at 1581 South Mission Road.
Trupiano's Italian Bistro
is the hot spot for delicious pasta and pizza in Fallbrook! You will be hard pressed to find better Italian food in the area. If you did, you'd still be unlikely to find a place that has charming ambiance like this. It's casual yet elegant, perfect for dates or impressive lunches with friends. They have won many awards for their fine cuisine, and there's no question why! The food is simply divine. You can locate Trupiano's Italian Bistro on South Main Avenue near the intersection with East Aviation Road.
Brothers Bistro
is a wonderful place to take that special someone! The outdoor fountain is supremely romantic, and you won't find better food than they serve here. The Angus steak is truly mouth wateringly delicious, cooked to order and served sizzling hot. We love the wine selections here, and the appetizers, soups, and salads are a great way to begin your meal. Brother's Bistro is located on South Main Avenue near the intersection with Co Highway S15.
La Caseta
is a fabulous Mexican restaurant in Fallbrook! We're hooked on the Mixed Grill for Two, it is so delicious and plentiful! The chips and salsa are by far the best way to begin your meal, and if you add a margarita to the mix you are truly kicking things off in style. You'll have to note that this restaurant can be very busy at times, due to its popularity... you can't keep a good place like this a secret for very long! So try to arrive early and give yourself some extra time. Coming in for lunch instead of dinner will certainly help too. You can locate La Caseta on North Vine Street between East Alvarado Street and East Hawthorne Street.