PINE VALLEY, CALIFORNIA is a small uncorporated community with about 1500 residents at last count. It's of course named after the gorgeous Jeffrey pines that stand at the side of Pine Valley Creek, and it is well known for being so nearby to beautiful parks like Cuyamaca Rancho State Park and Pine Valley County Park, both of which have addresses in nearby Descanso. If you'll be visiting the 91962 zip code, here are our favorite places to eat and drink in the area!
La Posta Diner
is your ultimate destination for comfort food and home cooked goodness. The ambiance here is very comfortable and a bit old fashioned, and we could say the same of the service. It has been a while since we have been treated this well by the waitstaff at a restaurant. We love the diner vibe here. It's usually pretty busy because you can't keep a place this great a secret for long, so give yourself extra time and arrive early. You'll see this one on Old Highway 80 near the intersection of Buck Springs Road.
Majors Diner
is a great little diner with old fashioned fifties style that you're really going to love. They've got wonderful burgers and fries that make for an inexpensive and delicious lunch, and they also have great eggs and hash browns that we would recommend any day of the week for a hearty breakfast! The location is very convenient and the service is very speedy too! Visit our friends at Majors Diner on Old Highway 80 near the street of Oak Lane.
Calvin's Restaurant
is one that really gets high recommendations from everyone who visits. Many say that their food is the best in all of San Diego, and that it's worth even a long trip! Very fresh and carefully prepared food, plus fast and friendly service, and beautiful ambiance... equals a very high recommendation from us! You can locate Calvin's Restaurant at Old Highway 80 over by the intersection with Oak Lane.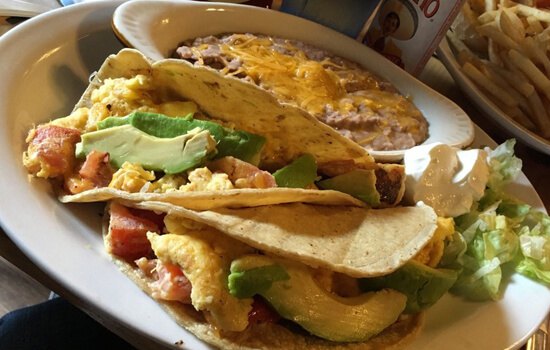 Descanso Junction Restaurant
is our favorite breakfast spot in the Pine Valley area. It's actually located in Descanso, but the short trip is definitely worth it. They've got everything here, from those breakfasts that we rave about to hamburgers and ribs, to sandwiches and steaks. The coffee is also excellent here! Very fast service, and the freshest ingredients. We enjoy the fresh squeezed orange juice! Descanso Junction Restaurant is located at 8306 California 79 in Descanso.
Viejas Casino
in nearby Alpine has everything you want in one place. Who doesn't love a place where you can gamble, enjoy some live shows, and of course drink and dine. Best case scenario, you win some money and your food and drinks end up being practically free! Gotta love it. We're big fans of the buffet, and we love the salads they are so good. And the best part is that this place is open 24 hours a day! You'll see Viejas Casino at 5000 Willows Road in nearby Alpine.
Rubio's Fresh Mexican Grill
... just hearing the name makes our mouths water! There are lots of vegetarian options here, and plenty of kid friendly items as well. The restaurant itself was inspired by the authentic beachside food stands in Baja, and we love the fact that the owner, Ralph Rubio, brought that authenticity back here to us in Pine Valley and Alpine. You can find this excellent Mexican restaurant at 5005 Willows Road in nearby Alpine! Very highly recommended!
Lake Cuyamaca Restaurant & Store
is one of the go to spots to stop and grab some grub in the Pine Valley area. It's actually located in nearby Julian, and it's perfect for your fishing and camping expeditions. We love the all you can eat fish fry that they have every Friday. They've also got live music on the weekends which is a nice treat when you've been roughing it camping all week! You can find Lake Cuyamaca Restaurant & Store at 15027 California 79 in neighboring Julian.
Nori Sushi Bar & Grill
has been recommended multiple times on these city pages because it's one of the very best sushi restaurants that we have become aware of in the area. You're not limited to just sushi here, there are many other Japanese specialties to enjoy as well. We always make sure to tell our friends about the ceviche roll, which you have to order special because it's not on the menu. It's fantastic! And we love the Chicken Katsu too. Nori Sushi Bar & Grill is easy to find at 5003 Willows Road in nearby Alpine.
The Vine Wine Bar & Bistro
is an elegant Italian wine bar where you can enjoy the finest wines along with some really delicious food. Too many wine bars that we have visited leave something to be desired when it comes to the food, but we're happy to tell you that's not the case at The Vine. We really love the surf and turf salad, and any one of their lunch specials will satisfy your appetite and pair well with the wines that are truly the stars of the show here. You will really enjoy this place. It can be found on Alpine Boulevard between Bay Meadows Drive and Terrace Knoll in Alpine.
El Rancho Bar & Grill
gets our recommendation almost solely because they have some of the best tasting margaritas we have ever tried! Wow, they are amazing. That's not the only leg this place has to stand on though. They've also got mouth watering barbecued baby back pork ribs, and when they top those babies with the perfect amount of barbecue sauce (it's a carefully guarded secret recipe!), it really comes out just right. There are delicious Mexican specialties here, plus delicious American favorites including juicy generously sized burgers. Full bar too! Located over on Oak Drive between Bass and Molchan Roads.