Jilberto's Taco Shop
is one of the simplest pleasures located in Pauma Valley! There is nothing elegant or beautiful about this restaurant whatsoever, it's just a very simple taco stand where you can come in and enjoy some really authentic and delicious hot food! We're big fans of the Carne Asada, and so is everyone else that we know! Their carnitas is also fantastic. There's nothing to look at here, but it sure does taste good! And the service is wonderful. Located at 17128 California 76.
El Rey Restaurant
has one of the nicest outdoor patios in Pauma Valley, and we just love to come in and enjoy some of their great food out there where the breeze is warm and the day is sunny. Really reminds you of a truly authentic lunch in Mexico. They've got a great bar inside that you can relax at after your meal as well, and all the drinks are fantastic. For your meal we'd most highly recommend the tacos, enchiladas, burritos, and of course some chips and salsa to start you off. Really excellent service here. It's located at 16220 California 76.
Casino Pauma
while certainly not a bar or restaurant in itself, is a complete entertainment solution including great food and drink! If you love to gamble, you'll want to take advantage of the 35,000 square feet of playing space, and when you're done trading those tokens for the ultimate fortune, you'll want to indulge in what is a surprisingly affordable and delicious lunch or dinner! We really love the food here, and the drinks are good and strong. You can find Casino pauma at 777 Pauma Reservation Road.
Black and Blue Steakhouse and Lounge
deserves a mention here. It's located in nearby Valley Center, and it's worth the short trip because the food is truly out of this world. The steaks are cooked just perfectly here, and we'd most highly recommend that fabulous Cowboy Rib Eye Steak. Delicious! The ambiance is truly beautiful, and the presentation of the food is really incredible. We can't think of another place in the area that puts so much attention to detail into the artistic presentation of the food. You'll find this one in the Casino at 16300 Nyemil Pass Road, in nearby Valley Center.
Jag's Grill & Spirits
finds itself among favorite places to stop in for a drink and truly relax after a long hard day at work. The atmosphere is truly noteworthy, and the staff is equally wonderful. And let's not forget about the high quality food and drinks! They've got an excellent outdoor seating area, plus live music on the weekends, and there's even a private room to rent out for your special parties. Best thing on the menu as far as we're concerned? The chicken club sandwich. And of course their fries are amazing. You'll find this wonderful hidden gem at 29000 Lilac Rd Valley Center, CA 92082, and we know you'll just love it.
Casa Reveles Restaurant
is one of the finest Mexican restaurants in the area. It's true that there are many to choose from, but we find ourselves here about half the time when it comes to Mexican delicacies. Beyond the traditional Mexican dishes they've got some other specialties including a pork and chili dish and even chicken fried steak and eggs. They've also got a great bar and dance floor, making for a fun bar scene especially on the weekends! We love it here. This is an excellent dining option at time of day is found at 29000 Lilac Rd # D, Valley Center, CA 92082. You don't wont to miss out on this one.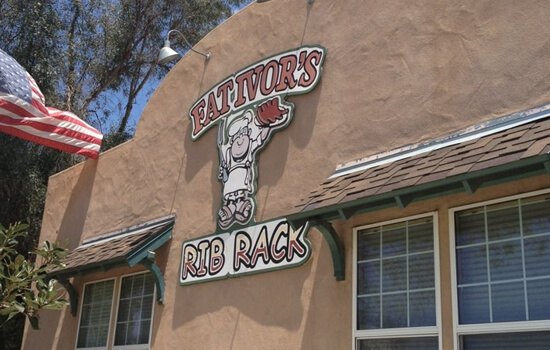 Fat Ivor's Rib Rack
keeps it simple when it comes to ambiance and atmosphere... and they keep the focus on the food just like they should! It's all about the barbecue here, and it's all mouth wateringly delicious barbecue at that. They've got great barbecued chicken, and pork chops, but the ribs of course are what they're really known for and they are absolutely the best in town! Not only is the barbecue outstanding but the sides are equally delicious, from the two different kinds of fried to the fried zucchini. Check out this barbecue pit stop over on 27959 Valley Center Rd, Valley Center, CA 92082.
Portino's Restaurant
is the best place in town for delicious cheesy pizza, fresh crisp salads, and generously sized sandwiches that will really fill your tummy. You'll be surprised by the affordable prices too. The name suggests a fine Italian restaurant but it's much more laid back than that. The service can be a bit slow here, so arrive early and give yourself plenty of time to enjoy a leisurely meal. Note that they won 1st Place at the International Pizza Expo in Las Vegas, so this really is some of the best pizza you'll ever taste! Portino's Restaurant can be found over at 28746 Valley Center Rd, Valley Center, CA 92082.
Mother's Kitchen & Restaurants
is another of the top dining options are far as we are concerned, this time located in nearby Palomar Mountain. This vegetarian establishment features some of the freshest and healthiest offerings that you will find. Their soup and quesadillas are two of our personal favorites, plus they've also got great nachos and veggie burgers. Be sure to try the mountain chili and the boca tacos! The lasagna is also really delicious. Located at 33120 Canfield Road in Palomar Mountain.
Fortunes Asian Cuisine
is located inside Harrah's Casino in nearby Valley Center, and it's one of the best (and most expensive!) restaurants around. If you don't mind paying a premium for really great food, and you're the type who understands that you get what you pay for, then you will love it here just as much as we do. The lobster is fantastic, so well cooked and flavorful and paired the house fried rice. Very highly recommended! Great service too! You can find Fortunes Asian Cuisine in the casino at 777 Harrahs Rincon Way, Valley Center, CA 92082.