Jag's Grill & Spirits
is one of the coolest places to sit down and enjoy a stiff drink in the Palomar Mountain area. It's actually located in nearby Valley Center, and it gets our vote thanks to its wonderful outdoor area and the great live entertainment that plays here on the weekends. We love to rent out the private party room for our special occasions too. Try the chicken club and the fries, you can't go wrong! You can locate Jag's Grill & Spirits on Lilac Road near the intersection with Hideaway Lake Road in nearby Valley Center.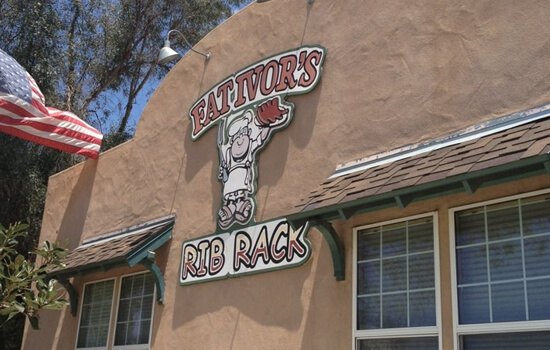 Fat Ivor's Rib Rack
is our favorite barbecue restaurant in the area, with really mouth watering barbecued chicken, tender succulent pork chops, and of course those baby back ribs that will really make you go wild! That's what they're known for, and we highly recommend them. The sauce here is superb, and the service can't be beat. Head over to Fat Ivor's Ribs off County Highway S6 by the intersection with Old Road, in Valley Center.
Casa Reveles Restaurant
has some of the best Mexican food we've ever tasted! We're big fans of the pork and chili dish, and if you're more in the mood for some American flavors you'll enjoy the chicken fried steak and eggs. The big twist here is that it also has a great bar scene, as evidenced by the well stocked bar and large dance floor! You'll want to come out on a weekend evening to check that out for yourself. You can find Casa Reveles Restaurant on Lilac Road near the intersection with Palos Tierra Road in nearby Valley Center.
Jilberto's Taco Shop
has got to be one of the most unpretentious restaurants that we're in love with in the Palomar Mountain area. This one's located in Pauma Valley, and it's all about the food here. Forget about ambiance. A taco stand is a taco stand. You'll love the carne asada and of course their flavorful carnitas. Everybody we know who dines here gets addicted to it! It's so good and fresh! You can find Jilberto's Taco Shop at 17128 California 76 in Pauma Valley.
Fortunes Asian Cuisine
is a part of Harrah's Casino, and beyond that cute casino-themed name, the true cleverness of this restaurant lies in the well-crafted dishes. The house fried rice is one of the specialties that everyone recommends, and we also love the beef with broccoli and of course their superb lobster. The prices here can get a bit expensive, so make sure that you've pocketed some serious winnings at the casino before you make that reservation! You'll find Fortunes Asian Cuisine at 777 Harrahs Rincon Way in Valley Center.
Portino's Restaurant
... the name reminds us of a very fancy and expensive restaurant, but in reality it's a much more down home Italian establishment where you can enjoy some great food and low prices. They won first prize at the International Pizza Expo in Las Vegas, so you know that they are really good! Best pizza in town, plus really great salads and sandwiches too! Very highly recommended, as much for the ambiance and service as for their great food! Find Portino's Restaurant on 28746 Valley Center Rd, Valley Center, CA 92082
Black and Blue Steakhouse and Lounge at Valley View Casino
always gets a nod from us because they've got some of the greatest steak and potatoes in the business, and we consider ourselves conossieurs of that American favorite! The cowboy ribeye steak is probably our top choice on the menu, but everything is good, and there's almost as much attention paid to the presentation of the food as to the preparation of it. You won't find a higher quality restaurant in the area. Located at Valley View Casino, at 16300 Nyemmil Pass Road, in Valley Center.
Mother's Kitchen & Restaurants
is your best bet for healthy and flavorful vegetarian fare in the Palomar Mountain area. This one is actually located in Palomar Mountain while most of the others on this list are just outside of it. We love their boca tacos and veggie burgers, and their mountain chili and quesadillas are fantastic too! Be sure to try the nachos as an appetizer. They are really something to talk about. You can find Mother's Kitchen & Restaurants at 33120 Canfield Road.
Casino Pauma
is your complete all-in-one entertainment source in Pauma Valley. It's just a short jaunt from Palomar Mountain, and if you can't get happily lost in those thirty five thousand square feet of gambling space, then you must not know how to have a good time! We love it here. They've got great bars and restaurants within where you can really fill up your tummy and quench that thirst! And they're surprisingly affordable too. Casino Pauma is located at 777 Pauma Reservation Road.
El Rey Restaurant
is your source for the freshest and most authentic Mexican food in the area. We love sitting outdoors and sipping a margarita while we enjoy their enchiladas, burritos, and tacos. The chips and salsa are the perfect way to begin a perfect meal too. The service is really great, very old fashioned and friendly. You can find this one at 16220 California 76.