MOUNT LAGUNA, CALIFORNIA is located in a Jeffrey pine forest 6000 feet above sea level, and it's a very popular spot for those who love the great outdoors, thanks to beautiful recreation areas including The Laguna Mountain Recreation Area which surrounds the village itself. It's fun to visit during the winter months to enjoy the sledding and cross country skiing. If you're coming to Mount Laguna, you'll want to know the best restaurants and bars where you can really fill up after a long day in the snow or enjoying the trails! These are our top choices in and around the 91948 zip code.
Blue Jay Lodge
is a wonderful rustic restaurant where you can kick back with large portions of delicious home cooked food. We can't think of a better place to refuel after a long day of playing hard in the famous recreational areas of Mount Laguna. The restaurant can be a bit dead at times because it's in an area that's either packed with tourists or practically empty just depending on the weather and what day of the week it is, but the food is always fresh and delicious, so there are no worries there. You can find Blue Jay Lodge on Sunrise Highway near the intersection with Escondido Ravine Road.
Majors Diner
is a very cool fifties themed diner where you will feel like you've stepped back in time. It's not just the decor and outward appearance that creates the fifties vibe, it's also the great old fashioned food and truly warm and inviting service. We love coming in for breakfast, and for lunch or dinner they've got wonderful burgers and French fries that will really fill your tummy and leave you satisfied. Majors Diner can be visited on Old Highway 80 near the intersection of Oak Lane, in Pine Valley.
Calvin's Restaurant
is part dining establishment, part sports bar, and we love that perfect combination. It's a little bit of a drive since it's located in Pine Valley, but we say it's worth it. We love to come in after a long day of playing in the mountains and just kick back watching the game. The best thing though is the food. All your American favorites plus some unique specialties! You will be glad you stopped by at 28841 Old Hwy 80, Pine Valley, CA 91962
Lake Cuyamaca Restaurant & Store
find itself the best of two worlds. You can dig into some really delicious restaurant specialties, including a wonderful fish fry every Friday. We love the location right across from the lake, which makes it perfect when you're camping and don't feel like roughing it when it comes to the food! Really really great service here. Truly top notch. Located at 15027 California 79 in nearby Julian!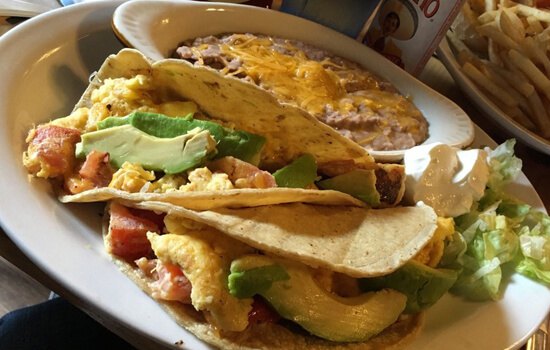 Descanso Junction Restaurant
as you may well expect is over in Descanso, and we absolutely love this place for breakfast! That country style setting goes so perfectly with a hearty plate of eggs and meat. We've actually never been here for lunch or dinner, but our friends assure us that it's fantastic too, with really great chicken taco salads and hot fresh coffee! Truly one of our favorite places to eat in the area. You can find Descanso Junction Restaurant at 8306 California 79 in nearby Descanso.
Julian Cafe
always gets our recommendation because they serve up some of the hottest and freshest food in all of nearby Julian. It's just a stone's throw away from your favorite recreation areas in Mount Laguna. The breakfasts are really wonderful! Some complain about the prices, and they are a bit high (as much as $13.00 for an omelette) but this is one of those cases where you are really paying for the high quality and the wonderful atmosphere. Visit the fine folks of Julian Cafe on Main Street between B Street and Washington Street in nearby Julian.
Grove Steakhouse at Viejas Casino
... We can't even count how many times we have recommended Grove Steakhouse on the other city pages on this site, because it's one of the very best restaurants around and we love the fun location inside the Viejas Casino! We always order the filet medallions when we're there, and the tomato florentine soup pairs so perfectly with that. You can find Grove Steakhouse at Viejas Casino at the address 5000 Willows Road in Alpine, CA.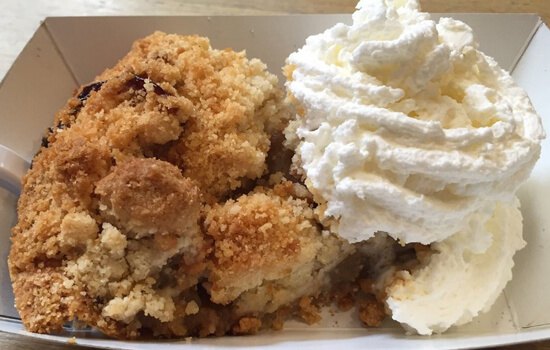 Mom's Pie House
is of course famous for those fresh home cooked pies, and we cannot get enough of them! Sometimes there's a long wait here, with the line literally leading outside the door, but it's definitely worth it for the flavorful pie that's your reward! The sandwiches and other menu items are also worth a visit. Be sure to check out Mom's Pie House on Main Street between Julian Street and Hunter Street in the city of Julian.
Nori Sushi Bar & Grill
is by far our favorite sushi restaurant in the Mount Laguna area, located in nearby Alpine. The sushi chefs here are true experts, crafting those rolls like the artists that they are, and we love to sit at the sushi bar and watch them prepare our meal. They've also got delicious Japanese specialties like Chicken Katsu that will please everybody's tastebuds even if they're not into the idea of raw fish! There's something for everybody here. Take a trip to Nori Sushi Bar & Grill at 5003 Willows Road close by in Alpine.
The Vine Wine Bar & Bistro - CLOSED
is a delicious taste of Tuscany right here in nearby Alpine. It's not far from the recreational areas of Mount Laguna, and it's definitely worth a trip to taste their wonderful food and wine selections. The Surf 'N Turf Salad is our favorite item on the menu, and we're really impressed with the amount of wines that are available here too. Visit The Vine Wine Bar & Bistro on Alpine Boulevard in-between Bay Meadows Drive and Terrace Knoll, in near-by Alpine.