LAKESIDE, CALIFORNIA is located in San Diego County, and is not to be confused with the former Lakeside near Lake Tahoe that is now known as Stateline. The last population count was over ten years ago, but at that time there were just about 20,000 residents calling Lakeside home. It's known as a cowboy's dream with all the ranches, horses, and overall rural atmosphere. You may want to come into town to check out the Lakeside Rodeo Grounds, which has been maintained by dedicated volunteers for nearly fifty years. Quite impressive. If you do come to Lakeside, you've got to grab a bite to eat, so these are some of our favorite restaurants and watering holes in the 92040 zip code!
Cafe 67
is a comfortable Italian restaurant that's perfect for evenings ou with your family, with groups of friends, or even with that special date. They serve very large portions here, so you can really fill up and still have some to take with you if you like. We love love love their breakfasts here! We cannot stress enough how wonderful they are. We'd recommend the Eggs Benedict most highly, and be sure to try the Monterey Potato Cakes! Wow. They've got great pancakes and huevos rancheros too! Very highly recommended. You can find this place on Mapleview Street near the intersection with Channel Road.
Mario's Italian Restaurant - CLOSED
is by far our favorite place in Lakeside to indulge in fresh salads, mouth watering pastas, and perfectly cooked pizzas! They've got a wonderful dinner for two that will really help you to save a few bucks. Be sure to try the shrimp and crab cannelloni, it's to die for. We also love the foccacia, and all we can say is "Wow!" at that woodfired pizza. Best lunch and dinner spot in all of Lakeside! Located on Woodside Avenue between Cactus Street and Channel Road.
Lakeside Cafe - CLOSED
is a great little unpretentious spot where you can relax with friends and enjoy some really good homecooked food. We're big fans of the Greek hamburger for lunch, and if we happen to come in the morning for breakfast you can't beat the Sunrise Quesadilla. It's quite large so you may want to share it with someone or even order it as an appetizer to split with everyone at the table before breakfast! We love giving our friends directions to this restaurant, because it sounds so picturesque, and it is: It's located on Woodside Avenue between Emerald Hill Lane and Shamrock Lane. We love it!
Roberto's Taco Shop
is just wonderful. Truly authentic and family run restaurant! Everyone who dines here falls in love with their Carne Asada, and we really highly recommend that! The refried beans are done just perfectly, and we also love their hot sauce. The food is so fresh here, you'll feel like you're having a home cooked dinner. There's a reason that they call it a taco shop - because the tacos are fantastic! Be sure to try them. You can find Roberto's Taco Shop on Woodside Avenue between Channel Road and Cactus Street!
La Palapa Mexican Restaurant
is another one of our favorite Mexican restaurants in the Lakeside area. We love the limitless chips and salsa, and they pair perfectly with a nice margarita while you're waiting for your food to arrive. People really go wild over those margaritas, so make sure you try one when you're there. So refreshing! It's tough to find really great fish tacos, but La Palapa Mexican Restaurant really gets it right! We're also addicted to the sour cream enchiladas. Great service and charming ambiance too! You can find this one on Woodside Avenue between Erwin Lane and Shamrock Lane.
Lakeside Steakhouse - CLOSED
has definitely got the meat lovers covered with some of the very best dishes that you'll find in all of Lakeside! We really adore their juicy steaks, melt in your mouth prime rib, and flavorful pork chops! As if the food itself wasn't enough of a reason to dine here, they also happen to have some of the best service in town. The waitstaff is very attentive and very smart about all the items on the menu. You'll love the bar and all the TVs so you can catch the game while you're here, and they also have a private party room so you can celebrate your big events with them. You will find Lakeside Steakhouse on Maine Avenue between Parkside Street and Lakeshore Drive.
Gaetano's Italian Restaurant
is yet another Italian restaurant that makes our list, and how could we possibly leave it off when they've got such wonderful high quality ingredients that make for a fantastic meal? This is true home cooked Italian flavor at its very best. They've been going strong since 1972 and with good reason. There never seems to be a long wait here, so you can get right in and enjoy that fine meal. Perhaps it's the tucked away location that makes it such a well kept secret. Nonetheless everything is always superbly fresh! Located at 13524 Highway 8.
China Dynasty
is not just a great Chinese restaurant, it also happens to be an all you can eat buffet! They do not have a giant buffet bar, rather a very well selected one, so you get all the best dishes served piping hot. Very good variety. One of the unique features at this restaurant is that you clean your own table off, which some people don't like, but we love it because you don't have to wait around for the waitstaff to do it! Everything that they serve here is fantastic. You will find it at 9740 Winter Gardens Boulevard.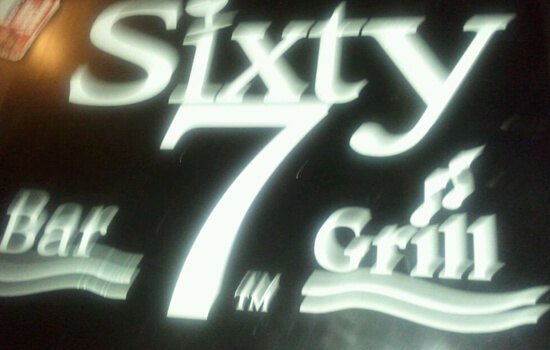 Sixty Seven Bar & Grill - CLOSED
is our top pick for a sports bar in Lakeside, because of their great decor and memorabilia, all the TVs to catch the game, and of course for their fabulous food! You will really enjoy the homecooked favorites here including some of the juiciest burgers we've ever tasted! The atmosphere is very relaxed and casual, and the service is friendly and fast! It's always packed with happy customers, and we love the energetic vibe here. You will find it on Maine Avenue near the intersection with River Street!
The Neighbor's Pub & Grub - CLOSED
is a great bar in Lakeside that's got all the essentials that make a bar irresistible. Great food and drinks, including juicy generously sized burgers and tons of beers on draft and in bottles... Friendly service that will make you feel as if you've stepped back into a time when things were much simpler... and of course a great bar atmosphere that instantly makes you want to have a good time as soon as you walk through the door. What more could you ask for? You can find The Neighbor's Pub & Grub on Woodside Avenue between Erwin Lane and Shamrock Lane.