LA MESA, CALIFORNIA is one of the larger cities in San Diego County, with a population of just over 55,000 at last census count. There are many regional events that bring lots of people into the area at different times of the year. Every Friday afternoon they hold a Farmer's Market in the village. There is a Flag Day Parade each July. Oktoberfest is of course a big draw for the city, bringing in as many as 200,000 people in one weekend! There's a Back to the Fifties Car Show that we really love, held each Thursday night in the summer months. And of course there's Christmas in the Village and the Antique Street Fair! If you'll be visiting La Mesa, here are some of our favorite restaurants and bars in the 91941, 91942, 91943, and 91944 zip codes!
Brigantine Seafood Restaurant
has a location in La Mesa that we simply can't resist. All of their seafood offerings are truly mouth watering, but we find ourselves returning to the fish tacos time after time. We love the outdoor patio when the weather is balmy, and the mixed drinks from the bar are always a great bet. If you love swordfish, you'll find that theirs is some of the best around! You can find Brigantine Seafood Restaurant on Fuerte Drive between Grossmont Boulevard and Bancroft Drive.
Claim Jumper Restaurant
... Don't be put off by the name! There's nothing criminal about this exquisite restaurant! They are known for their wonderful country fried steak, and we also think that their ribs are worth a recommendation. This casual and family friendly restaurant is all about pleasing the belly, and when you take a taste of their American favorites, you'll understand why people love this place so much. HUGE portions. Very highly recommended! Located at 5500 Grossmont Center Drive.
BJ's Restaurant & Brewhouse
lured us in for their microbrews and cider, but they kept us there with that irresistible food! Their deep dish pizza is truly some of the best that we have ever tasted. The meatloaf is also a winner. We love their home brewed beer, but many of our friends are not fans of it, yet they enjoy all the Belgian beers that they offer here. So there's something for everybody. High quality food, great beer, and wonderful service... and you can't beat that atmosphere either! BJ's Restaurant & Brewhouse is located on Grossmont Center Drive between Center Drive and Havenhill Road.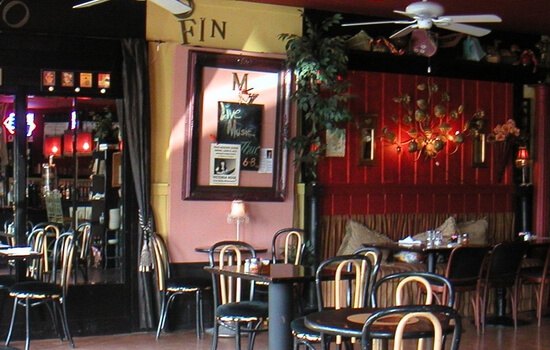 Ciao Bella - CLOSED
yet another amazing Italian restaurant, has made our list of favorite places in the La Mesa area. We're huge fans of their impressive wine list, and their eclectic dishes are so pleasing to jaded tastebuds. They've got wonderful music and dancing here too, so if you love to shake that tailfeather this is a great choice for dinner and dancing! The service can sometimes be a little bit slow, so give yourself some extra time to enjoy that dinner at a leisurely pace. Very highly recommended. Located on Baltimore Drive between Fletcher Parkway and Parkway Drive.
Casa De Pico
is our favorite Mexican spot in La Mesa where you can get not only the best authentic Mexican fare, but also wonderful drinks at happy hour! Having been in business since 1971, they have definitely worked out all the ways to please a customer, and they get it right every time. We highly recommend the burritos, they are HUGE! And the carnitas and flautas are also fantastic! Everything here, including the service, is great. Located on Grossmont Center Drive between Center Drive and Havenhill Road!
Anthony's Fish Grotto
is our favorite place for seafood, especially lobster! Everything is such high quality here, you'd be hard pressed to find a better seafood establishment than this one. It's been in business since 1961, and that really tells you something. Everything is great here, from the basic fish and chips (with fabulous cole slaw!) to the more exotic steak and shrimp! It's all wonderful. You'll like the elegant atmosphere too, which makes it perfect for business lunches, special dates, or just fun outings with friends and family. You can find Anthony's Fish Grotto on Murray Drive between Grossmont Boulevard and Loren Drive.
Gio Restaurant La Mesa - CLOSED
is wonderful for those who love a delicious meal paired with the perfect wine. They've got a very extensive and impressive list of wines here. The price is a bit higher here than most of the places in La Mesa, but overall we think it's worth it. We especially enjoy the live music, which is the perfect accompaniment to your dinner and drinks. They've got wonderful salads and delicious dressings here too. Try the pastas! And the steaks are perfectly prepared too. Located on La Mesa Boulevard between 4th Street and 3rd Street.
Tiramisu Trattoria
just has to be included on this list too, though there may in fact already be too many Italian restaurants on this list! We can't help it though, they are the best restaurants in town, and Tiramisu Trattoria is no exception. Many say this is their favorite restaurant in town, period, and we'd recommend the seafood fettuccini, as well as the pizza with gorgonzola, potato, and red onion. Now that's a topping combination made in heaven. Really great selection of wines here too. You can find Tiramisu Trattoria on La Mesa Boulevard between Spring Street and Palm Avenue.
Johnny B's Burgers & Brew
is more than just good, it's great! (Johnny B. Goode pun intended!) They've got all our American favorites here from delicious hamburgers to mouth watering chicken wings, and a wide array of beers and mixed drinks that will please even the most refined palate. They keep it pretty basic here in terms of the food, but on the weekends they expand a bit and you can get appetizers and steak. This is our favorite place in town for a burger and a brew! Located on La Mesa Boulevard near Lemon Avenue.
Norma Jean's
is a dive bar that some friends introduced us to, and we're sharing it with you here in case you're also the type who can appreciate a good dive! Very cheap drinks, great live entertainment, and a drink special that you'll never forget... a mixed drink made with grape kool-aid. So good! The bartender is very friendly, and the band is even more so, letting you come up on stage and jam with them. Be prepared to wait a while though, because everybody wants to get up there and the wait list can be as long as two hours some nights! You can find Norma Jean's on Baltimore Drive between Parkway Drive and Fletcher Parkway.