JULIAN, CALIFORNIA is one of the smaller cities in San Diego County, with a population of just under 2000 people! Don't let that small town vibe discourage you though, there is a wonderful bustling downtown area here that is quite beautiful, and it's worth traveling into Julian just to try their locally grown apples which have more of a bite than traditional varieties. There are lots of great shoppes to visit in town, and you can even try panning for gold in Banner Creek! There is so much you'll enjoy. Regardless of what your plans are in the 92036 zip code, you'll want to know where is best to eat and drink nearby, and these are our picks!
Lake Cuyamaca Restaurant & Store
gets our recommendation mostly because of that fantastic fish fry that they have every Friday! All you can eat delicious fried fish in a great setting like this? You can't beat that. The ambiance is casual and comfortable, and the waitstaff is very good, they go out of their way to make sure you have a pleasant time. We love the live music too! You can find this joint at 15027 California 79.
Julian Cafe
has all your bakery favorites as well as a complete restaurant to serve that hungry appetite! All of the food is really delicious, from the appetizers to the entrees and right down to all those bakery items, but most well known and loved are their apple pies. Some say it's a little too expensive, but we believe that you get what you pay for here. We also love the atmosphere and the attentive service. You can find Julian Cafe on Main Street near Washington Street!
Julian Grille
is one of our favorites in town, because as dog owners, we love the fact that we can bring our pooch to the outdoor patio and enjoy our meal there. They've got beautiful vines and a fire pit, both of which really set the mood. We love the wine selection here, and of all the delicious entrees on the menu, we'd say the salmon with Grand Marnier glaze is probably our favorite. The ambiance here is elegant and romantic, but just casual enough that you don't feel like you need that black tie and tails! Basically it's just right. You can find Julian Grille on Main Street between Washington Street and A Street!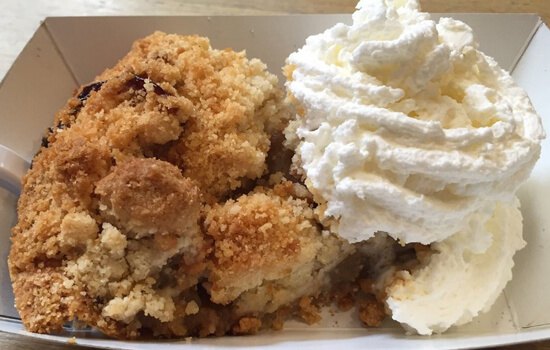 Mom's Pie House
is purely addictive for the pie lovers out there, and we include ourselves among those ranks! The hot apple pie will really warm your soul and comfort your spirits, and we'd say that's our very favorite out of all the choices on their very varied menu! That is what they're famous for, and there's no wonder why. Great soups and sandwiches too! Be sure to check this place out whenever you're in Julian. It's on Main Street between Julian Street and Hunter Street.
Romano's Dodge House
is a beautiful and authentic Italian restaurant that's intimately sized and very comfortable. an interesting fact is that it's supposedly haunted, but we've never seen any evidence of ghosts here... though perhaps we've been too distracted by the mouth watering pork chops! Yum! They've got delicious pizzas here too, so if you're looking for a more upscale pie than that of most pizzerias in the area, this is your spot. Find it at 2718 B Street!
Miner's Diner
is one of those great old fashioned little diners where you can kick back and enjoy all your classic American favorites, like delicious juicy burgers, thick mouth watering shakes and malts, and of course unbelievable French fries! This is the kind of diner experience that our parents must have enjoyed back in the day. You seat yourself too, just like it used to be. Even the waitstaff has that old fashioned attention to detail that nobody seems to have anymore. It's an all around very pleasant dining experience! You can find Miner's Diner on Main Street between B Street and Washington Street.
Bailey Barbecue
is unbelievable for the meat lovers out there. It is seriously the most well prepared barbecue that we have ever tasted. We love a generous slathering of delicious barbecue sauce, and we're happy to say that they aren't stingy with it here! They really spread it on good and thick. On the weekends you'll even enjoy the live entertainment here. There's no question why Bailey Barbecue is one of our favorite restaurants in all of Julian! You can find it on Main Street between A Street and Washington Street.
Cowgirl Cafe
is about as Western as it gets! If you love that over the top theme type of restaurant, you will be in heaven here. We really enjoy it. They've got wonderful sandwiches, including the basics like a grilled cheese (you won't believe how good it is!). We really love the hamburgers here too, and the pies are simply out of this world. Really fun and friendly waitstaff too!
Soups & Such Cafe
is one of the coziest eateries in all of Julian, very cute and quaint. Most of the food here is of the healthy variety, with lighter vegetarian options rounding out a very impressive menu. There's nothing better than eating their hot delicious soup with a hearty serving of their homemade bread. This is the kind of homemade meal that you wish you had time to make at home. Be sure to check this place out when you're in the area... you'll feel like you're visiting your grandma's place! It's located on Main Street between C Street and B Street!
Heros Deli - CLOSED
is a Julian tradition for us, and we never visit the city without stopping in for some wonderful milkshakes and deli sandwiches. They've got just about everything here though, even including Chinese food! There's a wild array of items and surprisingly they're all great. They make everything right in front of you, fresh and healthy, and you can grab a seat by the window if you want a really nice view of the downtown area while you're eating! Love it.