FALLBROOK, CALIFORNIA is one of the more interesting areas in San Diego County, with the downtown area being a little more difficult to access than most of the other surrounding cities. You may be familiar with Fallbrook as the Avocado Capital of the World, and the Avocado Festival every year is actually a very good reason to visit! There were close to 30,000 residents at last census count in 2000, but the recent wildfires have burned over one hundred homes in the area as well as another hundred buildings, and the evacuations alone have certainly affected the population. If you're visiting anytime soon, check out these great bars and restaurants in the 92028 and 92088 zip codes!
La Caseta
is one of the very best Mexican restaurants we've ever been to, and lucky for us it's located conveniently right here in Fallbrook! We love the chips and salsa, and they really give you a good amount of them. We highly recommend the Mixed Grill for Two, it's the best thing on the menu! It can be a little busier than we prefer in the evenings and there may be a wait, so we recommend it for lunch more than for dinner, but it is worth a wait if you do come in later! You'll find La Caseta on North Vine Street between East Alvarado Street and East Hawthorne Street.
Brother's Bistro
is a very pleasant French restaurant where you can relax with that special date or perhaps with a small group of friends, and enjoy some really delicious delicacies. We love the outdoor fountain on those nights when the weather is just perfect. Our favorite item on the menu is the Angus steak. It's of the utmost quality and so perfectly cooked. You can find Brother's Bistro on South Main Avenue near the intersection with Co Highway S15.
Trupiano's Italian Bistro
has got to be one of the best Italian restaurants in all of San Diego County, and it's certainly the best in Fallbrook. We love the pizzas and pastas here, and many of the dishes on the menu have won awards. One taste and you'll see that's no surprise. The atmosphere is casual yet elegant, very romantic for those special dates with the one you love, and nice enough for those business lunches with important clients too. You can find Trupiano's Italian Bistro on South main Avenue near the intersection with East Aviation Road.
El Jardin Mexican Restaurant
has been one of our top choices for a while now, partly because of the wonderful decor done in bright cheery colors, but mostly because of the incredibly delicious Mexican food that no other restaurant can even begin to compare to! The chips and salsa are fantastic, and we definitely recommend the burritos. They've also got a really wonderful Sunday brunch that you will not want to pass up. We also love the art on the walls that's done by local artists! Don't forget to order the flan for dessert! You'll find this great restaurant at 1581 South Mission Road.
Cafe Des Artistes
is one of the coolest little coffee shops that you'll ever have the pleasure of visiting. It's actually located in the back of a gallery, so you can enjoy some wonderful art on your way in, and then step back into the cozy cafe for some delicious coffees and desserts. They've got some wonderful Mediterranean delicacies here, so if you're seeking an exciting new lunch spot, why not try this one? You can find Cafe Des Artistes on South Main Avenue between East Alvarado Street and East Fig Street.
Firehouse Broiler
is everybody's favorite in Fallbrook, because of the casual yet elegant steakhouse ambiance. We LOVE the salads here. They are so crisp and flavorful, and very generous in size. The barbecue items are of course their specialty, and they do them very well. We'd recommend the ribs and steaks most highly, but just about everything on the menu is top notch. Lots of delicious icy cold beers too! You will definitely want to try this place when you're in Fallbrook. You can find Firehouse Broiler on South Main Avenue near the intersection with East Aviation Road.
Carl's Jr
just has to have our recommendation, because it's such a big part of our California culture! This is the place that introduced the drive thru to the world, and their burgers and delicious fast food choices have been pleasing the residents of Fallbrook for so many years now. There's no faster place to grab a burger and run. You've got to love the breakfasts too! How about those breakfast burgers? There's no place that can even begin to compete with that. You can find this Carl's Jr location on South Mission Road between West Aviation Road and Ammunition Road.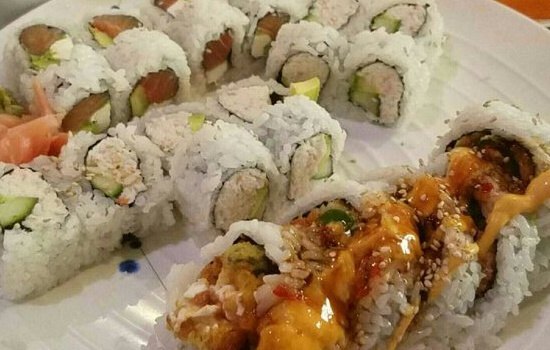 Young Sushi
always gets rave reviews from everybody who dines there, and we finally had to try it after hearing so many great things about it. It is fantastic! Very high quality sushi and sashimi, and they've got really good drinks too. The prices are really affordable here too. Great tempura items too. If you're craving great sushi in the Fallbrook area, this is your best bet. You'll be able to find this one on East Mission Road near the intersection with Santa Margarita Drive.
Love Boat Japanese Restaurant & Sushi Bar
... We love the name of this one almost as much as we love the food! Everything is superbly fresh here. We love the Chilean Sea Bass, and even the basics like the California Roll are so incredibly fresh and wonderful tasting. The sushi chefs are really experts at their craft, and they will be able to steer you in the right direction if you're new to sushi! Really wonderful place to bring your friends for a great night out! Located on Rancho Bernardo Road near the intersection with West Bernardo Drive.
Fallbrook Coffee Company
gets our recommendation because it's one of the nicest espresso bars we've ever been to. They really do have the best tasting espresso and even regular coffee in the entire San Diego area as far as we're concerned. The breakfast bagels are one of our favorite ways to welcome the morning, and when you pair that with the incredible coffee, you are really good to go. You will definitely want to try this place, and once you do, you'll be hooked. Find it on South Mission Road between Co Highway S15 and West Ash Street.