Barrett Junction Cafe
is a great combination of a biker bar, barbecue restaurant, and live entertainment space. We love going here to enjoy some ribs, some delicious beer, and the live music on the weekends! They've got a very large dining room and an outside patio so you can enjoy the breeze while you're noshing on all the great fare that they serve here. You can find Barrett Junction Cafe over on 1020 Barrett Lake Rd, Dulzura, CA 91917.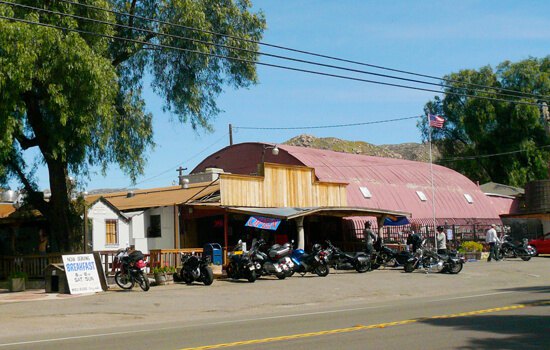 Dulzura Cafe - CLOSED
is such a wonderful place to stop in for a great breakfast or a really refreshing lunch. It's located just off Highway 94, so you can head in off that dusty road and enjoy the scenic views in this area. We love their Carne Asada Tacos, and of course their famous burgers! You will find this cozy little nook at 17023 Highway 94!
Black Angus Steakhouse
is a world away from the quaint little diners in Dulzura, and yet it's such a short drive. You'll enjoy the finest seafood and steaks right here in a very elegant atmosphere, and if you like to have a few cocktails with your dinner you'll really enjoy that full bar. You can save a bundle by opting for their dinner for two special, which includes not just the entrees but an app and dessert too! We recommend the prime rib. You'll find this great steakhouse in 707 E St, Chula Vista, CA 91910.
Nico's Steak & Chop House
It's one of our favorite restaurants in nearby Chula Vista, because we are big time steak fans and they really do it right! We also love their seafood, chicken, and chops. The atmosphere alone is a good reason to visit, with its cozy charm and elegant date night ambiance. We love their pomegranate martini, or really any of the martinis that they offer. Everything is just fantastic. Nico's Steak & Chop House can be found at 2021 Birch Road.
Zorba's Restaurant
has got to be one of our favorite buffets of all time. These Greek specialties are spread out in beautiful banquet fashion, which allows you to have an all you can eat Grecian dining experience without breaking the bank! This must have been the way that the Greek Gods dined. We love the cozy and charming atmosphere, and the service is outstanding too. You'll be able to find Zorba's Restaurant in nearby Chula Vista, on Broadway, between D Street and Flower Street.
La Bella Pizza Garden & Catering
always gets a high recommendation from us because they deliver the very best pizza we've ever had and they literally deliver, but of course dining in is also wonderful. They've got plenty to do while you're waiting for that pizza pie to be baked fresh, including pool, darts, video games, and more. We also love their catering service. They never fail to please. You can find their fine fare at 373 3rd Ave, Chula Vista, CA 91910.
BJ's Restaurant and Brewhouse
is a great place for a pizza and a beer. They've got the best, and we mean THE BEST, deep dish pizza that you will find in Southern California. It's incredible. So thick, with such a flavorful crust, and such an incredible amount of toppings and cheese stuffed in it... It's one of the most crave-worthy dishes we can think of, and we can't get enough! You can come in to catch the game on one of their many televisions too! You will find BJ's Restaurant and Brewhouse in Chula Vista on Broadway near the intersection with I Street.
Aunt Emma's Pancakes
is where you want to be anytime you're seeking a great breakfast in the Dulzura or Chula Vista area! Some people avoid this place because there can be a long wait, but we say arrive early because it's worth the wait! Trust us, your patience will be rewarded. The best pancakes, so many choices, and all your other breakfast favorites too. Wonderful service as well. You can find Aunt Emma's Pancake Restaurant in nearby Chula Vista on E Street between North Trolley Station and Woodlawn Avenue.
Filippi's Pizza Grotto
has been many people's favorite in the area since 1964, and that length of time says so much about its longevity and how good it really is. They've got more than just great pizza here... their Italian specialties are so wonderful, and served in such large portions that there's no way you'll be going home hungry. The pizzas are very unique and definitely worth some of your tastebuds' attention! You can find Filippi's Pizza Grotto in Chula Vista on Broadway between Casselman Street and D Street!
El Torito Mexican Grill
is one of our favorite restaurants in Chula Vista for its delicious lunch buffet! It's a great way to get in and out and get back to work, without being late and still having a really excellent brag-worthy lunch. Definitely order the guacamole, because they make it fresh right in front of you at the table. We love their authentic chips and salsa too! Everything on the menu is worth trying. It's all so good. Located in Chula Vista, on Bay Boulevard near the intersection with Gunpowder Point Drive.