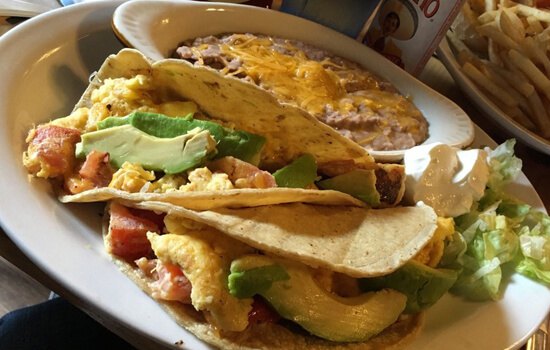 Descanso Junction Restaurant
has become a favorite among our friends because of its comfortable and casual atmosphere, and delicious home cooked food. We love coming in for their hearty breakfasts, juicy burgers, fall-off-the-bone ribs, large sandwiches, and mouth watering seafood and steaks! They've got supremely fresh salads, and really great coffee. If you're seeking a country style restaurant that will really make you feel right at home, seek out Descanso Junction Restaurant at 8306 California 79!
Descanso Pizza Deli & Grill
is a popular choice when you're out and about because of the convenient location right next to Perkins Market! This is such a nice place to go for a sizzling hot breakfast, a perfectly crafted pizza, or any of your deli favorites. We love all the grill offerings too. The service here is very friendly and fast, and you get a really old fashioned vibe from the first moment that you walk in the door. Very highly recommended. You can find Descanso Pizza Deli & Grill at 24680 Viejas Grande Road.
Grove Steakhouse at Viejas Casino
in nearby Alpine is a short drive away and yet a world away from everything that's available in town. The food is simply out of this world. The filet medallions are our favorite thing on the menu, but they offer up a menu full of amazing dishes. And of course you're just steps from all the fun that the casino has to offer, from the slot machines to the blackjack tables and even video poker! It's an all-in-one entertainment destination that isn't too far away. You can find the casino and the wonderful steakhouse within at 5000 Willows Road in Alpine.
Janet's Montana Cafe
Also known as the place to go for some delicious home cooked comfort food. The prices are very low here, making it an easy choice when you're trying to go light on your wallet, and yet the portions are nothing short of enormous, so you can fill up that appetite without spending too much! We'd recommend the eggs benedict, and the waffles with ice cream are another wonderful choice. You can find this one in nearby Alpine, on Alpine Boulevard between Bay Meadows Drive and Terrace Knoll.
Nori Sushi Bar & Grill
always gets our recommendation whenever anyone is in the Descanso or Alpine area and asks us where to eat! We find ourselves here at least once a month, for the fresh sushi and sashimi, and of course that wonderful Chicken Katsu! The ambiance is warm and inviting, and the service is so friendly and quick. We recommend the ceviche roll, but you won't find it on the menu, so make a note of it and be sure to ask for it when you arrive. You'll find this restaurant on Willows Road in Alpine!
La Carreta Mexican Restaurant at Alpine Creek Shopping Center
may be easy to overlook because of its unassuming location in a strip mall, but please don't let that turn you off. This restaurant is SUPERB. The food is completely authentic, with wonderful chips and salsa to begin your meal, and we'd recommend either the cheese enchiladas or the chiles rellenos for an entree. Everything is fantastic including the service and the atmosphere. You can find La Carreta inside Alpine Creek Shopping Center in nearby Alpine, on Tavern Road between Administration Way and Alpine Boulevard.
Mediterraneo
has had our heart for a while now, thanks to their incredible Mediterranean food that we just can't get enough of! Of course the service is something to be mentioned too, since it's always so friendly and also unbelievably fast. Rather than a fancy restaurant, this place has the vibe of a cozy bistro, and we love that. They have wonderful specials, and lots of beers on draft. It's located in nearby Alpine, on Tavern Road between Administration Way and Alpine Boulevard. It is one of the most highly recommended places in the city!
Casino Inn
is a wonderful little dive bar that we love to stop into when we're in the Alpine area, just to shoot the breeze with the regulars and the bartender, and enjoy the warm inviting atmosphere. The pool table and jukebox are great ways to pass the time, and they've got lots of great food and drink specials to help you go a little lighter on your wallet, which in today's economy, everybody appreciates! You will find this great little bar in Alpine, on Alpine Boulevard, between Peutz Valley Road and Tavern Road.
Bongiovanni's Italian Restaurant
is another of our favorites in nearby Alpine, mostly for its unbelievably good pizza. It's been in business since 1972 and we just love it. Everybody who dines here raves about their pizza, for its deliciously thick crust, generous cheese and toppings, and the flavor that just can't be beat. If you love pasta, we highly recommend their spaghetti and meatballs (sometimes the basics are just the best!), and the salads and appetizers are equally wonderful! You'll find Bongiovanni's in Alpine, on Olde Highway 80, between Marina Springs Lane and Flinn Crest Street.
Tapatio's
is known for their mouth watering Mexican food, and we just couldn't leave it off this list of the best restaurants that are near Descanso. This one also is located in Alpine, and it's worth the short jaunt because it's got the very best Carne Asada we've ever had! It tastes so good on their Carne Asada Burrito, and we love their Carnitas Plate as well. When you're driving down Alpine Boulevard you'll find Tapatio's near the intersection with Marshall Road, in Alpine.