BORREGO SPRINGS, CALIFORNIA is a relatively small community located in San Diego County. There were just over 2500 residents at last count, and many of those are seasonal residents rather than permanent ones. The area is totally surrounded by state park property, and there are many shopping areas, restaurants, golf courses, RV parks, and equestrian trails for you to enjoy. One of the things that we love most about Borrego Springs is that there are no traffic lights, and the outdoor lighting is kept to the absolute minimum so the residents can enjoy the beautiful starlight in the evenings. We only wish the idea would catch on in other nearby towns! If you're visiting Borrego Springs, be sure to check out our favorite bars and restaurants in the 92004 zip code!
Assaggio Ristorante Italiano
is one of the finest Italian restaurants in Borrego Springs. We love their Veal Piccata and the Salmon is also fantastic. Be sure to try the Caesar Salad too, it's got that old fashioned authentic flavor that is too hard to find nowadays. They've got many wonderful seafood dishes here too. If you're seeking a romantic restaurant where you can share a special date with someone, this is your best bet. You will find Assaggio Ristorante Italiano at 1816 Palm Canyon Drive.
Carlee's Place
is a wonderfully casual restaurant and bar that's the perfect stop when you want some good hearty food without having to get too dressed up. It's great for families in the daytime, and it's the perfect nighttime excursion for the adults late at night. It's got a deliciously retro vibe, very dim and sophisticated. They're known for their fantastic homemade potato chips, and we also love their grinders. Be sure to come in on karaoke night to hear some of Borrego Springs' talent! You'll find Carlee's Place at 660 Palm Canyon Drive.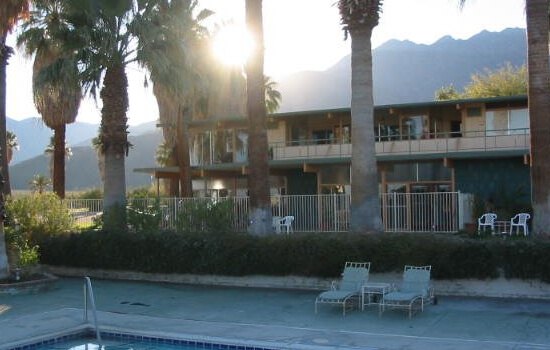 Palms at Indian Head
may not belong on this list because it's a hotel, but if you're coming to the Borrego Springs area we thought you should know about our favorite place to stay. The staff here is incredibly friendly, and the rooms are immaculately clean with very comfortable beds and lots of fluffy towels. There's a great restaurant and bar where you can stop in for a bite to eat and some drinks, or you may want to opt for that room service and just enjoy your room while you dine. They've also got a pool and jacuzzi so you can take a dip. You'll find this great little spot at 2220 Hoberg Road.
Carmelita's Mexican Grill
is such a wonderful place to go for hot, fresh, delicious Mexican food! Carmelita's has never let us down when it comes to consistently well-prepared food along with wonderful old fashioned service. You can't beat that warm friendly ambiance. We'd recommend the tacos and burritos most of all, but you can't go wrong with anything on the menu here. Great drinks too. Carmelita's Mexican Grill is located at 575 Palm Canyon Drive.
Kendall's Cafe
has got to be our favorite breakfast spot in Borrego Springs. They've got wonderfully fluffy pancakes, delicious biscuits and gravy just like grandma used to make, and even tasty hash browns and hearty omelettes. They've got lunch and dinner here too, but since we're always coming in for breakfast we've yet to try it! The service is fast and friendly, and the atmosphere is casual yet classy. You can find Kendall's Cafe inside The Mall at 587 Palm Canyon Drive.
Jilberto's Taco Shop
has got one of our highest recommendations because it's such a fun place to stop in for really delicious Mexican fare! They've got some of the best Carne Asada we've ever had, and we're big fans of their Carne Asada Burrito. Yum! They've also got awesome rolled tacos, huevos rancheros, and horchata. Their guacamole and salsa are both fantastic, and we love the beans and rice too. Everything here is hot and fresh and delicious! You'll find Jilberto's Taco Shop at 665 Palm Canyon Drive.
French Corner
is a fabulous French restaurant in Borrego Springs whereyou will enjoy bouef bourguinon, pate de la champagne, and wonderful dessert crepes. We're hooked on their creme brulee too! The service here is really outstanding, just like the excellent service you'd receive if you were really in Paris at a sidewalk cafe. The restaurant is very elegantly decorated, and very cool and relaxed. Great place to go with friends or perhaps on a romantic date. You can find French Corner at 721 Avenida Sureste.
Krazy Koyote Saloon & Grille
is a great little bar and restaurant where you can kick back, let go of the hard working day, and just enjoy some really good food and drinks with friends. We love their breakfasts and dinners. The atmosphere is very trendy and hip, and the service is friendly and attentive. Note that Krazy Koyote is closed in the summer months. Truly one of the coziest places in town to eat, especially with the wonderful outdoor dining area! You will find Krazy Koyote at 2220 Hoberg Road.
The Hideout
formerly known as RD's Log Cabin, is now a country bar with a large biker following. You can't miss it with all the Harleys parked outside. The food and drinks are more or less the standard bar fare, like burgers and beer. You won't find anything fancy here, but if you are the type who can appreciate that wonderful old fashioned bar food, then you will absolutely love it here. Great service and the best atmosphere around. You'll find it near the east side of Palomar Mountain, actually located in Warner Springs, at 26650 San Felipe Road.
Pablito's Mexican Bar & Grill
is yet another great Mexican restaurant in Borrego Springs that we've just got to recommend to you. We love to come in and enjoy some chips and salsa, margaritas and sangria, and then dive into their fabulous appetizers and entrees. The shrimp cocktail is a perfect pairing with just about anything. We love all the burritos and the rice and beans are fabulous here. Note that they are closed during the summer months. You will find Pablito's Mexican Bar & Grill at 590 Palm Canyon Drive.