BONITA, CALIFORNIA is a great place to go with friends to dine and drink, since there are so many wonderful restaurants and bars in the area. The city is located conveniently between San Diego and Chula Vista, making it an easy stop for you. It's known for its beautiful parks, including many beautiful horse trails, so if you are an equestrian you'll want to visit Bonita to ride those gorgeous paths. If you'll be visiting Bonita any time soon, please take note of our favorite eateries and lounges in the 91902 and 91908 zip codes!
Jalisco Cafe Mexican Restaurant
is one of the most comfortable and relaxing places to dine in Bonita. We love to come in for a quick meal since there's never a long wait. They've got a wonderful cheery atmosphere and an equally friendly staff that really makes you feel right at home. We're big fans of their Pozole, and they've also got some of the very best Menudo and Machada con Huevos that we have ever tasted. Be sure eto try the Enchiladas Suizas too, and the Carne Asada is superb. You can find Jalisco Cafe Mexican Restaurant on Bonita Road near the intersection with Willow Street.
Lolita's Taco Shop
has some of best Mexican food we've had in Bonita, which says a lot because this city is known for its wonderful Mexicali flair! We always come in for the Carne Asada fries and tacos. Their pork is just perfect, and their chicken and beef are nice choices too. Seafood lovers take note - the shrimp burritos are one of the very best items on the menu and we would highly recommend it to you! You will love the authentic flavors and the old fashioned service that will make you feel as if you've stepped into a little taco restaurant in Mexico. Located on Bonita Road near the intersection with Villas Drive.
Murrieta's
is a wonderfully casual restaurant and bar, with a distinctly Mexican and Southwestern flavor. If you're a lover of great chips and salsa to start your meal off with, you'll want to take note - Murrieta's has got the best chips and salsa you'll ever lay your tastebuds on! Wow. Everything on the menu is delicious. We also love the bar scene here, and they've got wonderful staff tending bar who really know how to mix a mean drink for you, or serve up those great beers on tap. You can find Murrieta's on Bonita Road near the intersection with Central Avenue!
Ono's Cafe-Island Style Bistro
is a Hawaiian eatery that we have simply fallen in love with. The item that really keeps us coming back for more is the Cinnamon Malasadas, and we also love the Cream de la Creme roll which is an incredible combination of macadamia nuts and smoked salmon. That's right, they do sushi here. And their version of sushi, with its island flair, will give you a completely different experience than any of the usual Japanese sushi restaurants that you are used to! Very highly recommended! You can find Onos's on Bonita Road near the intersection with Allen School Road.
Nine Dragons
serves up the freshest and most delicious Chinese food in the Bonita area. Everything is wonderful here, but the dish that we would recommend to you most highly is the orange chicken. We keep coming back time after time for that zesty orange flavor that we can't seem to find anywhere else. The restaurant has a very wonderful laid back atmosphere and nice decor, and best of all the service is friendly and quick. You'll be able to find Nine Dragons on Bonita Road near the intersection with Allen School Road!
Tijuana Oyster Bar
has amazing shrimp tacos and fish tacos for the seafood lovers (we highly recommend these!). The restaurant is quite small, basically just a little taco stand tucked in by Velocity Pinball. The only problem with this place is that it's tough to get a table since it's so small, so we pretty much treat this as a carryout restaurant and just bring our feast home to dive into. Better yet, bring it on the party bus! Great place to eat at a great price. Located at 4246 Bonita Road.
Mandarin Gourmet (CLOSED)
has fabulous Chinese and Mandarin dishes that will really make your mouth water. We've had the orange chicken many times, which is so zesty and flavorful. The chicken lo mein is another of our favorites, with noodles of the perfect texture and just packed with flavor. Then you've got some amazing barbecued pork that is much better than anything you'd expect to find at a typical Chinese restaurant! Everything here is prepared fresh and it's so tasty. You can find this great priced restaurant at 4410 Bonita Road!
Giant Pizza King
would be easily overlooked if you weren't on this page, but we've got to point it out to you because they've got some of the very best pizza in the Bonita area. We love calling them for delivery, because they deliver the pizza piping hot and it's always prepared just perfectly. Our favorite is the mushroom and cheese pizza. The staff here is very friendly and accommodating for special requests. We recommend this pizza restaurant to you! You can find it on Central Avenue between Frisbie STreet and Bonita Glen Terrace.
Young Sushi
used to be one of our top choices for sushi because of their incredible all you can eat sushi deal, which has recently stopped. But even now it remains one of our favorites because of the high quality fish and the excellent service. They've got half off sushi deals that will help you to save a lot of money, and everything is fantastic! The Crazy Boy Roll is one of the best, and we also love the Baked Salmon Roll. Be sure to try some of the more adventurous offerings on the menu - they are amazing! You can find Young Sushi on Bonita Road near the intersection with Willow Street.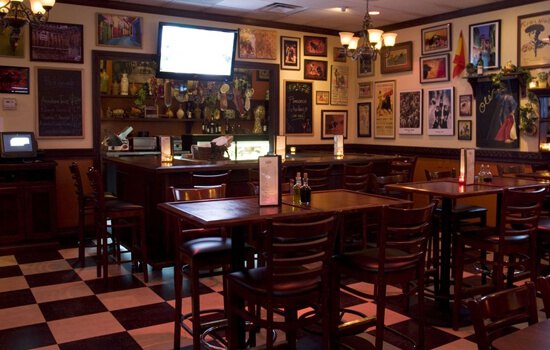 Romesco Restaurant
is one of the most pleasant dining experiences you will find in Bonita, with beautiful decor, very classy and friendly staff, and comfortable seating. We love their tapas bar, which shaves half off the normal prices on the menu, and also provides for a unique dining experience. We love the romantic vibe here, and you can't beat the live music on the weekends. They've got a lovely outdoor seating area too. Reservations are recommended. You can find this beautiful Spanish and Mediterranean restaurant at 4346 Bonita Road.